I
rocked the bump with Shell back here
and I have to admit I got total baby fever even though I have a 5 month old. But, we are done. No more planned babies for us. It's sad. Last night I put my baby to sleep in his own room for the first time and thought I would be crying myself to sleep. I did better than I thought I would. They grow up too dang fast! It's hard to remember Wyatt and Waylon at the stages they were below. Thanks to queen of the link Shell over at
Things I Can't Say
for putting together another great linky.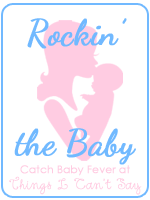 My little elf, Wyatt at 6 months old and my other babe at 30.
Hard to believe this happy little guy is already 5.
Waylon at 6 months. He had a ton of hair and it had, um, issues....
Waylon and my mom around 6 months. He will be 3 in October.
I know you all see a lot of Weston lately, but here is a picture of him around 7 weeks. I don't think I have posted it before besides in his baby book below.
Chubby Westy West at 5 months.
Awe, the memories!